Twelfth Of Never (1957)
written by Jerry Livingston and Paul Francis Webster
Johnny Mathis
"The Twelfth of Never" a popular song recorded by Johnny Mathis. The song's title comes from the popular expression "the 12th of Never," which is used as the date of a future occurrence that will never come to pass. In the case of the song, the 12th of Never is given as the date on which the singer will stop loving his beloved, thus indicating that he will always love her/him. The song draws a similar link between the cessation of love and a number of other events expected never to happen.
wikipedia
~Song~
"The Twelfth Of Never"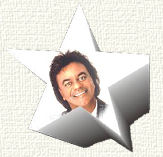 ŠJohnny Mathis
A Special Song and Dedication to Mr and Mrs Shuster
The later 50's were the years I spent in high school and the year I met my husband

and we danced to Moments To Remember and The 12th of Never at my senior prom.

We were married in a beautiful red velvet and white fur muff Christmas wedding in 1960

and our song was The 12th of Never.
(From HomewithGod Guestbook Entry November 01 2004)
Note from Webmaster:

Moments To Remember is also a Remembering The 50s page you can view (Click)
Song
Twelfth Of Never (1957)
ŠJohnny Mathis
Lyrics and song are property and copyright of their respective authors, artists and labels.
Lyrics and song provided for educational purposes only.
Please support the artists by purchasing related recordings and merchandise.
Heavens Gates Divisions
Heavens Gates
Heavens Gates Gospel
Remembering The 50s
Patsy Cline
Elvis Presley
A Lil Country/A Lil Grass
A 1950s Christmas
Christmas with Elvis
Solos Hideaway