Wanna swap banners with your 50s site?


Click Either Banner to snag
Link back to http://heavens-gates.com/50s/
Mail your banner and URL to webmaster@heavens-gates.com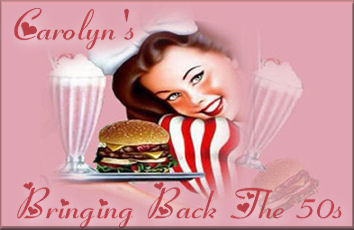 Carolyn's Bringing Back The Fifties

Agnethas The Lovely 50s From Sweden

Mr. & Mrs. DooWop Fabulous 50's & 60's

Take Me Back To The 50s
A Great Flash Movie Site

Beverly and Mike's ~Heartbeat's One & Two 50's & 60's~

Hastings High School
~Class of 1958~

For some of the most hilarious pages (and serious also) on the WWW visit
Larry's Singing Man's Home

Joanna's ~Flowerchildren/Nostalgia/Memories~
Holland

Gideon High School
Class of 1959
Gideon, Missouri

Sheffield High School
~Class of 1956~
Sheffield, Alabama


Hartford City High School
~Class of 1960~
Hartford City, Indiana

Waco High School
~Class of 1955~
Waco, Texas

Cresson Lake Playhouse
Featured Plays This Year
"Leader Of The Pack"
And the annual "A Christmas Story"


~Start Your Genealogy Research~
http://sharisdesigns.com/

© Graphic Design
Shari's Designs

Lyrics and song are property and copyright of their respective authors, artists and labels.
Lyrics and song provided for educational purposes only.
Please support the artists by purchasing related recordings and merchandise.
Heavens Gates Divisions
Heavens Gates
Heavens Gates Gospel
Remembering The 50s
Love Always, Patsy Cline
Back 2 The 50s with Elvis
A Lil Country/A Lil Grass