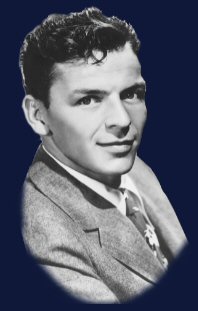 "You Make Me Feel So Young" is a 1946 popular song composed by Josef Myrow, with lyrics written by Mack Gordon. It was introduced in the 1946 musical film Three Little Girls in Blue, where it was sung by the characters performed by Vera-Ellen and Charles Smith (with voices dubbed by Carol Stewart and Del Porter).
~Source Wikipedia
Francis Albert "Frank" Sinatra (December 12, 1915 – May 14, 1998) was an American singer, actor, filmmaker, and conductor. Beginning his musical career in the swing era as a boy singer with Harry James and Tommy Dorsey, Sinatra found success as a solo artist from the early to mid-1940s after being signed by Columbia Records in 1943.
Being the idol of the "bobby soxers", he released his first album, The Voice of Frank Sinatra in 1946. His professional career had stalled by the early 1950s, but it was reborn in 1953 after he won the Academy Award for Best Supporting Actor for his performance in From Here to Eternity. He signed with Capitol Records in 1953 and released several critically lauded albums (such as In the Wee Small Hours, Songs for Swingin' Lovers!, Come Fly with Me, Only the Lonely and Nice 'n' Easy).
Sinatra left Capitol to found his own record label, Reprise Records in 1961 (finding success with albums such as Ring-a-Ding-Ding!, Sinatra at the Sands and Francis Albert Sinatra & Antonio Carlos Jobim), toured internationally, was a founding member of the Rat Pack and fraternized with celebrities and statesmen, including John F. Kennedy.
~Source Wikipedia
More Frank Sinatra Hits Click Here