Credited to Eddie Cooley and "John Davenport
The song was a rhythm and blues hit for Peggy Lee, on her album All Aglow Again. Peggy Lee's version, peaked at #8 on the US pop charts. The song became a signature song for Peggy Lee.
Peggy Lee (May 26, 1920 – January 21, 2002) was an American jazz and popular music singer, songwriter, composer and actress, in a career spanning six decades. From her beginning as a vocalist on local radio to singing with Benny Goodman's big band, she forged a sophisticated persona, evolving into a multi-faceted artist and performer. She wrote music for films, acted, and created conceptual record albums—encompassing poetry, jazz, chamber pop, and art songs.
Peggy Lee is today internationally recognized for her signature song "Fever". She had a string of successful albums and top 10 hits in three consecutive decades. She is regarded as one of the most influential popular singers of all time, being cited as an influence by diverse artists such as Petula Clark, Paul McCartney, Bette Midler, Madonna, Shirley Horn, Dusty Springfield and k.d. lang. Lee was also an accomplished actress.
In her 60-year-long career, Peggy was the recipient of three Grammy Awards (including the Lifetime Achievement Award), an Academy Award nomination, The American Society of Composers, Authors and Publishers (ASCAP) Award, the President's Award, the Ella Award for Lifetime Achievement, and the Living Legacy Award from the Women's International Center. In 1999 Lee was inducted into the Songwriters Hall of Fame.
~Source Wikipedia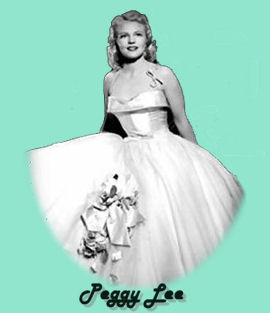 [May 26, 1920 – January 21, 2002]