"Searchin'", a song written by Leiber and Stoller specifically for The Coasters was released as a single on Atco Records in March 1957, and topped the Rhythm and Blues Chart for twelve weeks.
The Coasters deserve their place in music history. They have existed for more than 50 years. The men who constituted the original foursome, and those who joined those hoodlum friends during the illustrious and adventurous career of the group, were all hand-chosen professional performers, who debuted during the early years of rhythm & blues. All of them contributed to the emerging of original rock'n'roll. The Coasters are probably the most qualitative vocal group in modern music. Alongside the Platters and the Drifters they certainly were the most famous "harmonizers" during the original era of rockīnīroll.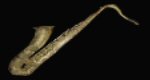 Arnold Shaw summarized the Coastersī enormous prominence in his book "The Rockinī 50s" (Plenum Publ., 1974): "If rockīnīroll had produced nothing but the Coasters and Leiber and Stoller, it would still have commanded attention as the sound embodiment of a time and generation. They reflected the world of the young with understanding, good humor, and social insight. This was rockīnīroll at its best - ebullient, energizing, entertaining, expressive, and danceable..."