Since I Don't Have You (Dec 1958)
Written by Joe Rock and Jimmy Beaumont
The Skyliners
The classic standard, "SINCE I DONíT HAVE YOU" was not only the debut record of THE SKYLINERS, but also, the first in a string of hit songs from the pens of Jimmy Beaumont and the groups first and only manager, Joe Rock. In fact, the artist/management relationship between Beaumont/SKYLINERS/Rock is the second longest such relationship in the entertainment industry. These 40 plus years in which so many "firsts" and "exclusives" became part of the story and history of one of the greatest lead singers and most admired and accomplished vocal groups in pop music, prompted music and entertainment writer Joseph Sasfy of the Washington Post to call them, "possibly the greatest tight vocal harmony group of all time".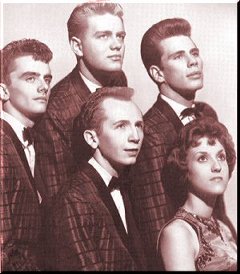 SHARE This Page With Your Friends




~Song~
"Since I Don't Have You" (1958)


©The Skyliners
Lyrics and song are property and copyright of their respective authors, artists and labels.
Lyrics and song provided for educational purposes only.
Please support the artists by purchasing related recordings and merchandise.