Although it has been covered by many, Eartha Mae Kitt recorded the original, definitive version of the holiday classic Santa Baby.
1953 was a great year for Kitt. Her very first album was released entitled RCA Victor Presents Eartha Kitt.
The single released from her LP Cest Si Bon (Its So Good), zoomed up the charts and made her a household name, becoming her signature song.
Then the single Santa Baby was released in 1953 becoming the biggest song of her long, eventful career. In fact the song charted over FIFTY years later in 2005 as #28 Hot Digital Songs and again in 2007 #43 Hot Canadian Digital Singles

Marilyn Monroe, born Norma Jeane Mortenson (June 01, 1926 - August 05, 1962), was an iconic American actress, singer and model. She is one of the 20th century's most famous movie stars, sex symbols and pop icons. After acting in small roles for several years, she gradually became known for her comedic skills, sex appeal and screen presence, going on to become one of the most popular movie stars of the 1950s.
"Santa Baby" with worldwide radio play and millions of downloads, thought to be Marilyn Monroe, however never recorded by Marilyn, was originally sung and recorded in 1953 by Eartha Kitt, who died Christmas Day, 2008. The song was a huge hit for Kitt, and she later said that it was one of her favorite songs to record.

Song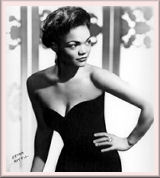 "Santa Baby"
©Eartha Kitt (1953)
45RPM Santa Baby/Under the Bridges of Paris

Marilyn's Bio Courtesy of Wikipedia