God Bless and Hold
Our Astronauts
February 01 2003
~David M. Brown~, ~Rick D. Husband~, ~Laurel Clark~,
~Kalpana Chawla~, ~Michael P. Anderson~,
~William C. McCool~, ~Ilan Ramon~







LORD PLEASE TAKE THESE HEROES INTO YOUR
HEART AS THEY ASCEND TO HEAVEN.
THEY GAVE THEIR LIVES FOR THE BENEFIT OF ALL MANKIND.
BLESS THE FAMILIES OF THE FALLEN
AS THEY PREPARE FOR THIS TIME OF GREAT LOSS.




The LORD is my shepherd, I shall not want.
He maketh me to lie down in green pastures,
he leadeth me beside the still waters.
He restoreth my soul:
he leadeth me in the paths of righteousness
for his name's sake.




Yea, though I walk through the
valley of the shadow of death,
I will fear no evil,
for thou art with me;
thy rod and thy staff they comfort me.




Thou preparest a table before me
in the presence of mine enemies:
thou anointest my head with oil;
my cup runneth over.




Surely goodness and mercy shall follow me
all the days of my life:
and I will dwell in the house of the LORD
Forever.




Space Shuttle Columbia
STS-107 Flight: January 16 2003 - February 1, 2003
















Colonel Rick D. Husband, USAF
Mission Commander
History: Husband, 45, makes his second trip into space.
The U.S. Air Force colonel and mechanical engineer piloted a shuttle flight
in 1999, which included the first docking with the international space station.





CAPTAIN David M. Brown, MC, USN
Flight Surgeon
Mission Specialist
History: The U.S. Navy captain makes his first flight into space. Brown, 46,
an aviator and flight surgeon, is working on many experiments, including
numerous biological ones.





Colonel Ilan Ramon, IAF
Payload Specialist
History: Ramon, 47, is the first Israeli astronaut. A colonel and
former fighter pilot in the Israeli Air Force, he saw combat
experience in the Yom Kippur War in 1973 and
the Lebanon War in 1982.





Commander William C. McCool, USN
Pilot
History: The 40-year-old former test pilot makes his first foray into space.
The U.S. Navy commander and Naval Academy graduate is responsible for
maneuvering the shuttle as part of several experiments.





Lieutenant Colonel Michael P. Anderson, USAF, PhD
Payload Commander
History: Anderson, 42, went into orbit once before, a 1998 shuttle flight that
docked with the Russian space station Mir. The U.S. Air Force lieutenant
colonel and physicist is responsible for the shuttle science mission.





Commander Laurel Clark, MC, USN
Flight Surgeon
Mission Specialist
History: Clark, 41, a U.S. Navy commander and flight surgeon,
is making her first flight into space. A medical school graduate
of the University of Wisconsin, Madison, Clark is taking part in
a variety of biological experiments.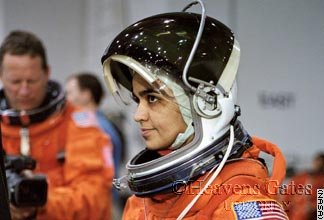 Dr. Kalpana Chawla
Mission Specialist
History: Born in India in 1961, Chawla earned an aerospace engineering
doctorate from the University of Colorado in Boulder. Chawla, who has
logged more than 375 hours in space, was the prime robotic arm operator
on a shuttle flight in 1997.



Stars Over Texas

I saw a star over Texas
Within seven so brave
I dropped to my knees
For their souls I did pray

Sixteen minutes from home
Where their families did wait
Columbia did ride
To her terrible fate

With a boom and a show
Of long plumes and light
Twas a sobering view
Which did not bring delight

A sorrow descended
Upon us one and all
As the lives that had perished
We did all recall

They loved what they did
Without fear it may seem
And they took their last breaths
As they lived with their dream

So lets not despair
O'er Columbia's last flight
Her brave crew now dances
Among the stars of the night

February 1 2003
R. Molinelli


ŠTammy's Midi's
"Enya -Watermarker"
Used With Permission.
Lyrics and songs are property and copyright of their respective authors, artists and labels.
Lyrics and songs provided for educational purposes only.
Please support the artists by purchasing related recordings and merchandise.
Heavens Gates Divisions
Heavens Gates

Heavens Gates Gospel

Remembering The 50s
Patsy Cline

Elvis Presley

A Lil Country/A Lil Grass
A 1950s Christmas

Christmas with Elvis

Solos Hideaway