Hey, Good-Lookin' (1951)
Written and recorded by Hank Williams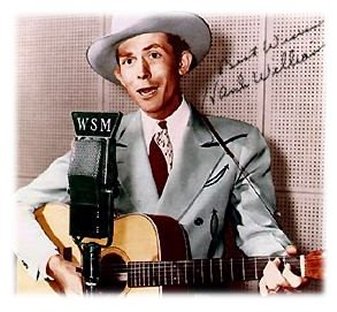 Hank Williams Sr
No Sound Try Here
Hiram King Williams (September 17, 1923 – January 1, 1953), better known as Hank Williams, was an American singer and songwriter and musician who has become an icon of country music and one of the most influential songwriters of the 20th century. A leading pioneer of the honky tonk style, he had numerous hit records, and his charismatic performances and succinct compositions increased his fame. His songbook is a backbone of country music, and several of his songs are pop standards as well.
~Source wikipedia
9-25-93, Patsy Cline, Bob Wills, The Carters and Hank Williams were each honored with their images on a US Postage Stamp at The Grand Ole Opry.

Share this page with your friends!
Song
Hey, Good-Lookin' (1951)
©Hank Williams Sr
Lyrics and song are property and copyright of their respective authors, artists and labels.
Lyrics and song provided for educational purposes only.
Please support the artists by purchasing related recordings and merchandise.
Heavens Gates Divisions
Heavens Gates
Heavens Gates Gospel
Remembering The 50s
Love Always, Patsy Cline
Back 2 The 50s with Elvis
A Lil Country/A Lil Grass