"I Walk the Line" is a song written by Johnny Cash and recorded in 1956. After three attempts with moderate chart ratings, "I Walk the Line" became the first number one Billboard hit for Cash. The single remained on the record charts for over 43 weeks, and sold over 2 million copies.
The song is very simple and like most Cash songs, the lyrics tell more of a story than the music conveys. (You've got a way to keep me on your side/You give me cause for love that I can't hide/For you I know I'd even try to turn the tide).

It is based upon the "boom-chicka-boom" or "freight train" rhythm common in many of Cash's songs. In the original recording of the song, there is a key change between each of the five verses, and Cash hums the new root note before singing each verse. The final verse, a reprise of the first, is sung a full octave lower than the first verse. According to Cash, he loved the sound of a snare drum, but drums were not used in country music back then, so he placed a piece of paper in his guitar strings and created his own unique "snare drum".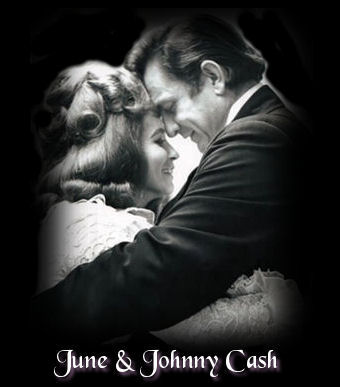 Johnny, with the Temptations outside his door and a new wife at home, wanted the lyrics to say, "Iím going to be true to those who believe in me and depend on me to myself and God. Something like Iím still being true, or Iím 'Walking The Line.' "The lyrics came as fast as I could write," says Johnny. "In 20 minutes, I had it finished."
~Source Wikipedia

Share this page with your friends!
Back to Country/Bluegrass Songs

Heavens Gates Home