Elvis Presley
Don't Cry Daddy
(words & music by scott davis)


YouTube Video courtesy of ThePablitoKing
Standard YouTube License

Listen to Elvis Presley Don't Cry Daddy (Stop Video First)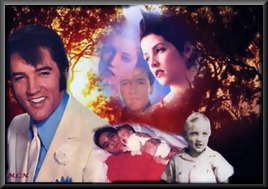 In 1997, at the tribute concert marking the 20th anniversary of Elvis' death, Lisa roused the crowd by presenting a duet video of herself singing, "Don't Cry Daddy" with her father.
David Foster produced Lisa's performance and new instrumentation to compliment Elvis' original vocal.
The result was stunning.

Song
"Don't Cry Daddy"
©Elvis Presley

No part of this page and/or graphics are to be used or copied.
"Elvis", "Elvis Presley" and "Graceland"... are Registered
Trademarks of Elvis Presley Enterprises,Inc. © 1996 E.P.E., Inc.
They are under full copyright
Lyrics and songs are property and copyright of their respective authors, artists and labels.
Lyrics and songs provided for educational purposes only.
Please support the artists by purchasing related recordings and merchandise.
Heavens Gates Divisions
Heavens Gates
Heavens Gates Gospel
Remembering The 50s
Patsy Cline
Elvis Presley
A Lil Country
A 1950s Christmas
Christmas with Elvis
Solos Hideaway