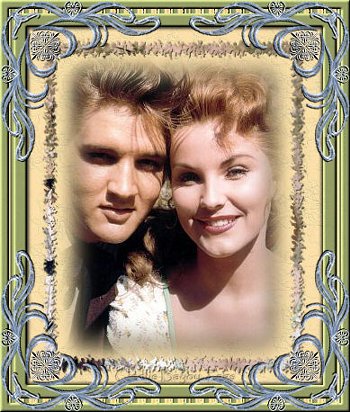 Love Me Tender
Written by Vera Matson and Elvis Presley
Recorded by Elvis August 24 1956
Elvis Presley's hit recording of "Love Me Tender" entered Billboard's pop charts in October 1956. It stayed on the charts for 19 weeks, and was in the Number 1 spot for five of those weeks. The song, from Presley's debut film with the same title, was adapted from the tune "Aura Lee," which had been written back in 1861.
* Robert Wagner was originally considered for the part of Clint Reno, the part Elvis played in his first movie "Love Me Tender".
* The original working title of "Love Me Tender" was "The Reno Brothers".
* Elvis' character Clint dies at the end of "Love Me Tender". His mother and thousands of fans were so upset that the producers altered the ending, adding a silhouette presence of Elvis singing the title song over the end credits.
* An alternative ending to "Love Me Tender",
in which Elvis lives, was filmed but not used.
* Elvis dies in 2 of his films, both were westerns:
"Love Me Tender" & "Flaming Star".
* "Love Me Tender" was the only film for which Elvis did not receive star billing.
Love Me Tender(1956) Elvis Presley's first movie finds him as a farm boy romancing his presumed-dead brother's fiancee during the Civil War. Songs include "Poor Boy," "We're Gonna Move" and the title tune with Debra Paget and Richard Egan.
Song
Love Me Tender (1956)
©Elvis Presley
Lyrics and song are property and copyright of their respective authors, artists and labels.
Lyrics and song provided for educational purposes only.
Please support the artists by purchasing related recordings and merchandise.

Graphics by Cindy's Bayou Designs


No part of this page and/or graphics are to be used or copied.
"Elvis", "Elvis Presley" and "Graceland"... are Registered
Trademarks of Elvis Presley Enterprises,Inc. © 1996 E.P.E., Inc.
They are under full copyright