Young And Beautiful
Recorded: April 30, 1957
(Words & Music: Aaron Schroeder / Abner Silver)

"Young and Beautiful"
From The Movie "JAILHOUSE ROCK"
"Jailhouse Rock" is another Elvis Presley movie from the
year 1957. He is playing Vince Everett, who learns to play
guitar with country style while in prison for manslaughter.
After his release, Vince meets a pretty female agent and
tries to get a singing job in a nightclub. After he abandons
the country singing style and finds his own, success and
riches follow - but problems are on their way when his
former cellmate is released.
Song tracks found in "Jailhouse Rock" include
"Treat Me Nice", "Young and Beautiful", "I Want to be Free",
"Don't Leave Me Now", "Baby I Don't Care", and the rocking
rock'n'roll song "Jailhouse Rock".
Song
Young And Beautiful (1957)
©Elvis Presley
Lyrics and song are property and copyright of their respective authors, artists and labels.
Lyrics and song provided for educational purposes only.
Please support the artists by purchasing related recordings and merchandise.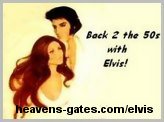 No part of this page and/or graphics are to be used
or copied. "Elvis", "Elvis Presley" and "Graceland"
are Registered Trademarks of Elvis Presley
Enterprises, Inc. © 1996 E.P.E., Inc.
They are under full copyright