Christmas Times A Coming
Written by Tex Logan (Decca 46386 45rpm)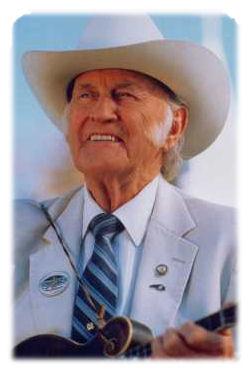 Bill Monroe And The Bluegrass Boys 1951

William Smith Monroe (September 13, 1911 - September 9, 1996) was an American musician who helped develop the style of music known as bluegrass, which takes its name from his band, the "Blue Grass Boys," named for Monroe's home state of Kentucky. Monroe's performing career spanned 60 years as a singer, instrumentalist, composer and bandleader. He is often referred to as "the father of bluegrass."

Back to A 50s Christmas
Heavens Gates Home

Song
Christmas Times A Coming 1951
©Bill Monroe And The Bluegrass Boys 1951
Lyrics and song are property and copyright of their respective authors, artists and labels.
Lyrics and song provided for educational purposes only.
Please support the artists by purchasing related recordings and merchandise.

Heavens Gates Divisions
Heavens Gates
Heavens Gates Gospel
Remembering The 50s
Patsy Cline
Elvis Presley
A Lil Country/A Lil Grass
Big Band Era
Christmas with Elvis
Solos Hideaway