Santa Claus Is Watching You
Written by Ray Stevens


Ray Stevens



YouTube Video Courtesy of billmyers
Standard YouTube License

Listen to Santa Claus Is Watching You (Stop Video First)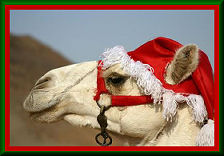 "Santa Claus Is Watching You", features a "cameo" by Clyde. The intrepid camel is pressed into service in place of Rudolph the Red-Nosed Reindeer, the famous reindeer having been sidelined by an injury incurred during a Twist contest.
Stevens has said that Clyde the camel was named after rhythm-and-blues singer Clyde McPhatter, formerly the lead singer of The Drifters. Clyde is arguably the most memorable character of the song, due to Stevens' exaggerated imitation of a camel's braying vocalization. Clyde has become something of a mascot for Stevens.

Share this page with your friends!

Back to A 50s Christmas

Heavens Gates Home
Song
Santa Claus Is Watching You
©Ray Stevens
Album: Ray Stevens All-Time Hits

Lyrics and song are property and copyright of their respective authors, artists and labels.
Lyrics and song provided for educational purposes only.
Please support the artists by purchasing related recordings and merchandise.

Heavens Gates Divisions
Heavens Gates
Heavens Gates Gospel
Remembering The 50s
Patsy Cline
Elvis Presley
Old Time Country
Big Band Era
A 50s Christmas
Solos Hideaway