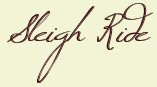 Composed by Leroy Anderson, Lyrics by Mitchell Parish
Sleigh Ride is a popular light orchestral piece, composed by Leroy Anderson. The composer had the original idea for the piece during a heat wave in July 1946; he finished the work in February 1948.
Lyrics were written by Mitchell Parish in 1950.

Top image is from Angelkeeper Designs
Song
Sleigh Ride
©Johnny Mathis
Album: Merry Christmas Columbia CL-1195/CS-8021 (1958)

Lyrics and song are property and copyright of their respective authors, artists and labels.
Lyrics and song provided for educational purposes only.
Please support the artists by purchasing related recordings and merchandise.

Heavens Gates Divisions
Heavens Gates
Heavens Gates Gospel
Remembering The 50s
Patsy Cline
Elvis Presley
A Lil Country/A Lil Grass
The Big Band Era
Christmas with Elvis
Solos Hideaway