When tomorrow starts without me,
And I'm not there to see,
If the sun should rise and find your eyes
All filled with tears for me;
I wish so much you wouldn't cry
The way you did today,
While thinking of the many things,
We didn't get to say.
I know how much you love me,
As much as I love you,
And each time that you think of me,
I know you'll miss me too;
But when tomorrow starts without me,
Please try to understand,
That an angel came and called my name,
And took me by the hand,
And said my place was ready,
In heaven far above,
And that I'd have to leave behind
All those I dearly love.
But as I turned to walk away,
A tear fell from my eye
For all my life, I'd always thought,
I didn't want to die.
I had so much to live for,
So much left yet to do,
It almost seemed impossible
That I was leaving you.
I thought of all the yesterdays,
The good ones and the bad,
I thought of all the love we shared,
And all the fun we had.
If I could relive yesterday,
Just even for a while,
I'd say good-bye and kiss you
And maybe see you smile.
But then I fully realized,
That this could never be,
For emptiness and memories,
Would take the place of me.
And when I thought of worldly things,
I might miss come tomorrow,
I thought of you, and when I did,
My heart was filled with sorrow.
But when I walked through Heavens Gates,
I felt so much at home.
When God looked down and smiled at me,
From His great golden throne,
He said, "This is eternity,
And all I've promised you.
Today your life on earth is past,
But here life starts anew.
I promise no tomorrow,
But today will always last,
And since each day's the same way
There's no longing for the past.
You have been so faithful,
So trusting and so true.
Though there were times you did some things
You knew you shouldn't do.
But you have been forgiven
And now at last you're free.
So won't you come and take my hand
And share my life with me?"
So when tomorrow starts without me,
Don't think we're far apart,
For every time you think of me,
I'm right here, in your heart.
Copyright (c) David M Romano
December 1993
In Loving Memory of
Angela Mae Strong
1973
2000
In Loving Memory of
Dorien Pineda
5 December 1974
2 October 1998
My beautiful child, who was not perfect on earth,
is now perfect in heaven.
In Loving Memory of
my husband William J. Davison
Born February 2 1944
went to be with the Lord
December 30 2006
In Loving Memory of
Brandon Clay Davis - (my baby boy)
December 08, 1969 - September 18, 2006
In Loving Memory of
Herbert Clay Hazel - (my wonderful Dad)
December 20, 1916 - August 31, 1988
In Loving Memory of
Emma Lucille Hazel - (my mom & best friend)
December 16, 1922 - May 25, 2005
In Loving Memory of
Cathy Sudduth
December 5, 1951 - August 2, 2011
UNTIL WE MEET AGAIN
In Loving Memory of
Augustin B Perez
May 28, 1923
October 14, 2008
Daddy I miss you so much. My heart aches without you. We all miss you. We love you and we think about you every single day. We think about that beautiful day you walked your daughter in-law, Debbie, at your sons renewal of vows mass, just a few months before you left us. Daddy we miss you very much and we cherish all the wonderful memories you gave us.
I love you, your daughter,
Irma Perez
In Loving Memory of
John Fruit
(June Johnson's nephew)
June 22, 1965
December 25, 2009
John,
The entire family is still grieving. I know that
God is taking good care of you. And some day we
will see you again. I miss that beautiful smile.
Christmas will not be the same without you.
We all love you.
Aunt June and Family
Aunt June, John, Grandma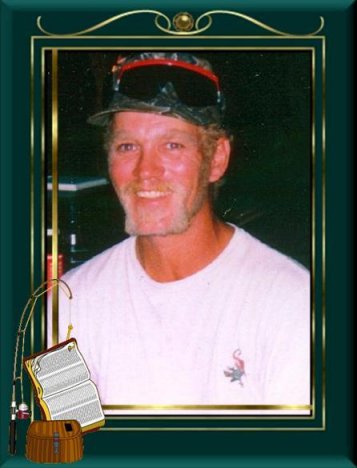 In Loving Memory of
Michael D. Carico II
October 27, 1963
November 27, 2002
My darling Michael,
I miss you and love you so very.
I will see you soon.
Love,
Mom

Killed by a red light runner.
www.myangelsonmichael.Com
In Loving Memory of
Kimberly Ann James
August 29 1977
September 15 1989
Daddy Loves you and misses you, I will see you again I promise.
May God Bless you and keep you, We all love and miss you.
Love Daddy
In Loving Memory of
My sweet nephew Sammy Vessichelli
May 21 1963
January 15 2009
I ask God to keep you safe now. Rest in peace Sam.
Until we meet again. Always in my heart.
Ciao, Aunt Carmella
In loving memory to my son Sam Vessichelli
I love and miss you until we meet again.
Love mom
In Loving Memory of
Charles J. Urwin
July 19 1938
December 6 2002
We love and miss you so much,
my husband and best friend.
In Loving Memory of
Tammy L. Urwin
January 14 1963
November 12 1997
We love and miss you so much my precious one.
In Loving Memory of
Robert Rothrock
April 12 1917
September 3, 2006
Bernice Rothrock
August 11 1916
May 21 2007
In Loving Memory of
David Thomas Beahringer
April 25 1978
December 02 2007
Loving son, brother and friend
In Loving Memory of
Crystal Paige Whitaker
and unborn baby,
Hunter Leigh Whitaker.
January 01 1988
April 19 2008
"May you rest peacefully in Jesus arms.
Till I see you in Heaven".
Love Always, Mom, Dad, & LilJohn
In Loving Memory of
William A. "Bill" Gergely
November 10 1928
November 10 2008
You are always in my heart.
The thoughts I have are of me and you -
And a love we shared that grew and grew.
Our two hearts met on some distant day -
And found each other forever to stay.
And though we shared some ups and downs -
That bond of love just hung around.
It glistened, we listened, and then we shared -
And when we were apart, it was still there.
The feelings we shared were honest and true -
And I think that is why it so strongly grew.
God has given us a special gift -
A gift of love that so rightly fits.
And tho we are apart
You ever remain in my heart.

In Loving Memory Page 31
In Loving Memory Children Memorials (1-13 years)

Back to ~In Loving Memory~ Index of Names

Would you like to add a loved one to this page?
Send to Heavens Gates, include Name, DOB, date entered Heaven
along with your dedication words and/or photo you wish included.

~Midi~
Memories
Sequenced by (C)Margi Harrell
Used With Her Permission
Lyrics and songs are property and copyright of their respective authors, artists and labels.
Lyrics and songs provided for educational purposes only.
Please support the artists by purchasing related recordings and merchandise.