Written by Don Hecht, W.O. Fleener and W.S. Stevenson
Recorded by Patsy Cline April 24 1957
Fingerprints is on the album "Patsy Cline" released on August 5, 1957. This was the debut album by Cline and would be one of three studio albums Patsy Cline would record during her lifetime.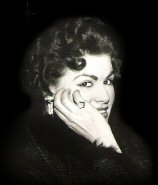 Patsy recorded a total of 12 songs for the album. The tracks were
a mix of Honky Tonk, Rockabilly, and Country pop. Many music critics have called songs from this album very different from any of the other material she would record for her albums later. One of the songs recorded for the album, "Don't Ever Leave Me Again", was co-written by Patsy Cline with James Crawford and Lillian Claiborne. She signed it, however, in her real name, Virginia Hensley, in the songwriting credits.