No Sound Try Here
Written by Earl Shuman, Alden Shuman and Marshall Brown
(As Recorded by Patsy Cline August 24 1961
"Seven Lonely Days" was a hit for Georiga Gibbs in 1953, and Patsy covered it and made it hers in the early 60s.
It first appeared on her second studio album, "Patsy Cline Showcase" released 11/27/1961.
Also included on this album were her hits "Crazy" and "I Fall to Pieces."
<



Song
Seven Lonely Days
ŠPatsy Cline (1961)
All lyrics and songs are property and copyright of their respective authors, artists and labels.
All lyrics and songs provided for educational purposes only.
Please support the artists by purchasing related recordings and merchandise.
Please purchase Patsy Cline music from an authorized music dealer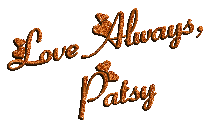 Heavens Gates Divisions
Heavens Gates
Heavens Gates Gospel
Remembering The 50s
Love Always, Patsy Cline
Back 2 The 50s with Elvis
A Lil Country/A Lil Grass
A 1950s Christmas
Christmas with Elvis
Solos Hideaway Fun Pages