(Written by Don Gibson)
As Recorded by Patsy Cline February 5, 1963
Patsy recorded "Sweet Dreams" just one month before she died,
February 5, 1963. It became a hit after
her death and the title of her film biography.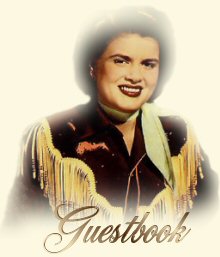 Song
Sweet Dreams (1957)
ŠPatsy Cline
Lyrics and song are property and copyright of their respective authors, artists and labels.
Lyrics and song provided for educational purposes only.
Please support the artists by purchasing related recordings and merchandise.