~*~Unforgettable~*~
Billboard position #12 in 1951-52
Words and Music by Irving Gordon
Nat King Cole
March 17, 1919 - February 15, 1965

Nat "King" Cole had one of the greatest singing voices of the
twentieth century. His daughter, Natalie, also has a beautiful
singing voice. Twenty years after her father's death, Natalie
used modern technology in a creative way to sing with him again.
In 1992, she made an album called Unforgettable...With Love.
The album contains her own versions of many of her father's songs.
For the song "Unforgettable," she created a duet, recording her
voice over her father's original recording. She won two Grammy
Awards—one for the song and one for the album. In 1996, Natalie
recorded another "duet" with her father, "When I Fall in Love,"
on her album Stardust. It also won a Grammy Award.
More Nat King Cole Hits Click Here

Share this page with your friends!

~Song~
"Unforgettable"
©Nat King Cole (1951)
Lyrics and song are property and copyright of their respective authors, artists and labels.
Lyrics and song provided for educational purposes only.
Please support the artists by purchasing related recordings and merchandise.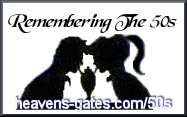 Heavens Gates Divisions
Heavens Gates
Old Time Gospel
Remembering The 50s
Patsy Cline
Elvis Presley
A Lil Country/A Lil Grass
Christmas With Elvis
A 1950s Christmas
Solos Hideaway
The Big Band Era
Swinging 60s and 70s