"Daddy's Little Girl" ©Glow Can Pick

This is one of my favorite pictures. This is my Dad teaching
my little sister and me how to do the jitterbug......
and he loved Magnolia blossoms.......
Cindy




You were the calm in the mighty sea

The knight in Armour who protected me.

The man who loved me without a doubt

Who fixed the world when it was inside out



Trusting the man who held me so tenderly

You taught me things when I was small

To learn to walk and always stand tall

To fight for what I thought was right

But show respect and be polite




You suffered through the teenage years

Mending broken hearts and wiping away tears

You stood your ground when the rebellion came

I was my Daddy's girl and hard to tame.



Challenging the man who still loved me dearly

Then one day just out of the blue

I met a man that was just like you

I knew I had found the man God meant for me

A new kind of calm in the mighty sea




You smiled as you walked me down the aisle that day

But the tears in your eyes as you gave me away

Didn't match my tears when God called you home

I'm still Daddy's little girl but with children of my own



In awe of the man that never once left my side

© CHB Cindy Bradberry
April 10, 2005

God called my Dad home on April 4, 1990,
three months before my fourth child was born.
My children thought he hung the moon and that
he did it just for them. I'm sure he made the
Heavens shine and the Angels laugh, as much
as he did for those he had left behind.
I miss you Daddy
Cindy's Bayou Designs
©GlowCanPick
"Daddy's Little Girl"
Used With Permission.
Lyrics and song are property and copyright of their respective authors, artists and labels.
Lyrics and song provided for educational purposes only.
Please support the artists by purchasing related recordings and merchandise.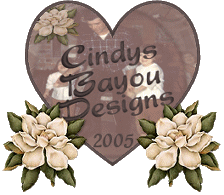 Heavens Gates Divisions
Heavens Gates

Old Time Gospel

Remembering The 50s
Patsy Cline

Elvis Presley

A Lil Country/A Lil Grass
Christmas With Elvis

A 1950s Christmas

Solos Hideaway
The Big Band Era

Swinging 60s and 70s