Elvis Presley's '68 "comeback special" TV show (December 3, 1968)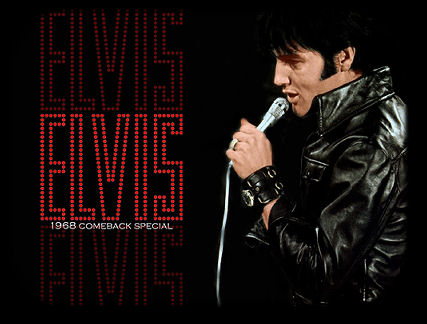 You can feel the shock waves the show made. Elvis looks gorgeous and he knows it;
you see joy, command, and a certain slyness. In moments he reminds you of Sean Connery's
James Bond. He takes that 007 you-must-be-kidding- me grin as his own, and it serves him perfectly.
The persona adds a kind of weight to the last song of the show;
when Elvis sings If I Can Dream, acknowledging the murders, only weeks and days before,
of Martin Luther King, Jr., and Robert F. Kennedy, and in a way refusing their deaths,
his passion seems to come from experience, not a script.

Song
"If I Can Dream"
©Elvis Presley

Graphics by Cindy's Bayou Designs


No part of this page and/or graphics are to be used
or copied. "Elvis", "Elvis Presley" and "Graceland"
are Registered Trademarks of Elvis Presley
Enterprises, Inc. © 1996 E.P.E., Inc.
They are under full copyright
Heavens Gates Divisions
Heavens Gates
Old Time Gospel
Remembering The 50s
Patsy Cline
Elvis Presley
A Lil Country/A Lil Grass
Christmas With Elvis
A 1950s Christmas
Solos Hideaway
The Big Band Era
Swinging 60s and 70s