This is the story of a man who was in a hospital, and he was dying.
His wife had been sitting by his bedside for three days and three nights.
Somewhere on the third day, between midnight and day,
she laid down beside him and dozed off to sleep.
Well, he sensed her when she dozed off to sleep,
and at the same time he felt himself start to die.
He didn't want her to see him pass away,
so he took his notepad by the side of the bed and he wrote...

with Sherrill Nielsen

YouTube Video Courtesy of daniellenelvis
Standard YouTube License

Listen to Softly, As I Leave You (Stop Video First)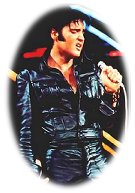 A Day Of Memories
A day of memories,
Laughter and tears
A man never forgotten
Through all they years.
A grin, a wink,
And that come-hither look
The twitch of a leg
And that's all it took.
We fell for his music,
His looks and his style
And followed his tours
Over many a mile.
There is no end,
There can be no goodbyes
For when I look back
I see those blue eyes.
So today I'll celebrate
And toast his name
Since he came on the scene
Music was never the same.
The memories are sweet
And never will die
There is no end,
There can be no goodbye.
Sandi Pichon
Author of "Raised On Elvis",
& President of TCB ELVIS STYLE Fan Club in Louisiana
©January 8 2003
All Rights Reserved
Used with Authors Permission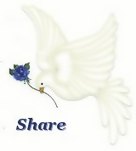 Elvis left us softly...
Elvis, you are missed so much!
Song
"Softly, As I Leave You"
©Elvis Presley

No part of this page and/or graphics are to be used or copied.
"Elvis", "Elvis Presley" and "Graceland"... are Registered
Trademarks of Elvis Presley Enterprises,Inc. © 1996 E.P.E., Inc.
They are under full copyright.
Lyrics and songs are property and copyright of their respective authors, artists and labels.
Lyrics and songs provided for educational purposes only.
Please support the artists by purchasing related recordings and merchandise.
Heavens Gates Divisions
Heavens Gates
Old Time Gospel
Remembering The 50s
Patsy Cline
Elvis Presley
A Lil Country/A Lil Grass
Christmas With Elvis
A 1950s Christmas
Solos Hideaway
The Big Band Era
Swinging 60s and 70s