Treat Me Nice
(Jerry Leiber - Mike Stoller)
Recorded by Elvis September 5 1957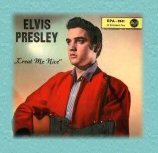 Treat Me Nice from the movie "Jailhouse Rock"
"Jailhouse Rock" is Elvis Presley's most famous film.
It is also considered by many critics and fans to be
his best. Elvis looks great and the outstanding movie
soundtrack is arguably his best.
The film starring Elvis Presley and Judy Tyler features
probably one of the best soundtracks ever put on celluloid,
including: "Baby I Don't Care", Don't Leave Me Now,
"I Wanna Be Free", "One More Day", "Treat Me Nice",
and the wonderful ballad "Young and Beautiful".
Sadly, Elvis' love interest in the film Judy Tyler was
killed in car accident not long after the film's release.
Thank you Carolyn for this most beautiful web set.

Song
Treat Me Nice
©Elvis Presley (1957)
Lyrics and song are property and copyright of their respective authors, artists and labels.
Lyrics and song provided for educational purposes only.
Please support the artists by purchasing related recordings and merchandise.
No part of this page and/or graphics are to be used or copied.
"Elvis", "Elvis Presley" and "Graceland"... are Registered Trademarks of Elvis Presley
Enterprises,Inc. © 1996 E.P.E., Inc. They are under full copyright
Heavens Gates Divisions
Heavens Gates
Old Time Gospel
Remembering The 50s
Patsy Cline
Elvis Presley
A Lil Country/A Lil Grass
Christmas With Elvis
A 1950s Christmas
Solos Hideaway
The Big Band Era
Swinging 60s and 70s