"Here Comes Peter Cottontail" is a popular Easter song composed in 1950 by Steve Nelson and Jack Rollins. Due to the immense popularity of Gene Autry's Christmas songs "Here Comes Santa Claus" and "Rudolph the Red Nosed Reindeer", Nelson and Rollins asked Autry to record their song. His version peaked at number 3 on the U.S Billboard Hot Country Singles chart and at number 5 on the Billboard Hot 100 chart.
It is often regarded as one of the most popular Easter songs of all time, and often features on TV commercials around the Easter period.
~Source Wikipedia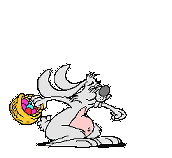 Gene Autry's career spanned some 70 years in the entertainment industry and he became famous in film, radio, television, and live theater and rodeo performances.
He recorded and wrote hundreds of songs; he was the most successful singing cowboy, completing 93 movies and starring in 91 television productions. Gene Autry was ranked among the most celebrated film stars and for years was considered to be the most popular Western film actor.