Santa Claus Is Coming To Town ©Bing Crosby and The Andrews Sisters
Santa Claus Is Coming To Town
Written by J. Fred Coots and Haven Gillespie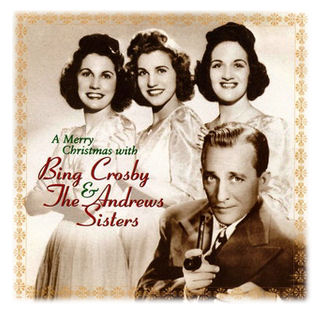 Bing Crosby and The Andrews Sisters 1943

"Santa Claus Is Coming to Town" was written by J. Fred Coots and Haven Gillespie, and was first sung on Eddie Cantor's radio show in November 1934. It became an instant hit with orders for 100,000 copies of sheet music the next day and over 400,000 copies sold by Christmas. "Santa Claus Is Coming to Town," was recorded September 27, 1943 with the Andrews Sisters and Vic Schoen and His Orchestra.
Song
Santa Claus Is Coming To Town
©Bing Crosby and The Andrews Sisters
Album: Bing Crosby White Christmas
Lyrics and song are property and copyright of their respective authors, artists and labels.
Lyrics and song provided for educational purposes only.
Please support the artists by purchasing related recordings and merchandise.
Heavens Gates Divisions
Heavens Gates
Old Time Gospel
Remembering The 50s
Patsy Cline
Elvis Presley
A Lil Country/A Lil Grass
Christmas With Elvis
A 1950s Christmas
Solos Hideaway
The Big Band Era
Swinging 60s and 70s