She's Going Home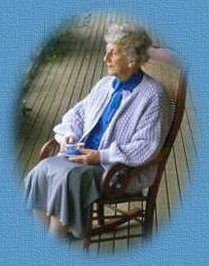 Her aging hands are folded
As she sits there in her chair
Another day spent all alone
And no one seems to care.
The years pass by so slowly
Her heart is filled with pain
Oh what she'd give to go back home
And see them once again.


Her name has been forgotten
The months have turned to years
Inside she's died a hundred times
And cried a million tears.
Someone is there to see her
She quietly waits inside
He gently beckons to her
Her arms are open wide.


She wanted so to see Him
And called to Him each night
The emptiness has disappeared
For now He holds her tight.
The nursing home is silent
No ailing voices call
No med carts, pills or nurses
No wheelchairs in the hall.


Her aging hands are folded
The grace of God she's known
With eyes now closed in restful sleep
He comes to take her home.
Author/Written By:
Marilyn Ferguson
©2001

(Statement from Marilyn Ferguson)
I was formerly a Social Services Director in a nursing home and also did volunteer work once a week in local facility for 5 years once a week. I saw so many people like the lady in this poem.... just waiting day after day for a familiar face to walk through the door. Oftentimes, they were forgotten and there was nothing but idle days to fill their time. So many, I think, pray for the Lord to take them home. The lady I wrote this about was a real person and resident of the home where I volunteered. She was a very quiet pleasant lady but no one ever came. Her name was Evelyn and she would also sit with hands crossed in her wheelchair, oftentimes staring at the door. She was a Christian lady and one of my favorites but she seemed alone and unhappy. I can still visualize her to this day along with several other forlorn faces....... just waiting...... '
Music
Feelings
Lyrics and song are property and copyright of their respective authors, artists and labels.
Lyrics and song provided for educational purposes only.
Please support the artists by purchasing related recordings and merchandise.
Heavens Gates Divisions
Heavens Gates
Old Time Gospel
Remembering The 50s
Patsy Cline
Elvis Presley
A Lil Country/A Lil Grass
Christmas With Elvis
A 1950s Christmas
Solos Hideaway
The Big Band Era
Swinging 60s and 70s

©2005/2022 Heavens Gates ©2005/2022 Haven Of Love Designs.
This Page was Designed Exclusively by Haven Of Love Designs & Heavens Gates.
NOTE: Do Not Copy or Reproduce Anything Within This Page all are Copyrighted
and May NOT be Reproduced, Distributed or Displayed in any way or form...