Written by Tillman Franks and Jimmie Davis
Kitty Wells w/ daughter Carol Sue
Kitty Well's first recording session was for RCA Records in 1947 when she recorded such gospel songs, as "Gathering Flowers for the Master's Bouquet" and "How Far Is Heaven". Kitty re-recorded "How Far Is Heaven" two more times on Decca Records, in 1956 with daughter then age 9, Carol Sue.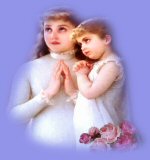 In 1974, Wells was inducted into the Country Music Hall of Fame, and with good reason. Kitty Wells broke down the doors for female country singers, paving the way for artists like Patsy Cline, Tammy Wynette, and Loretta Lynn.