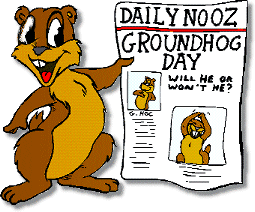 Legend of Groundhog's Day
by
Marilyn Ferguson ©2004
On Groundhog's Day, we follow legend
Our eyes look to the ground
For a sleepy little woodchuck
In Punxsutawney town.
If Phil, the brown haired critter
Comes out into the light
And quickly sees his shadow
He'll bounce back out of sight.
He'll slip into his burrow
For spring is far away
Six more weeks of winter
The price that we will pay.
But should the day be cloudy
Ole Phil will wander out
With spring around the corner
He'll spread the news about.
Tis fun to follow legend
It brightens up our day
To think the bliss of springtime
Is not that far away.
(written) January 18, 2004
Visit Echoes of the Heart
to read more of Marilyn's wonderful poetry.
Pennsylvania's earliest settlers were Germans and they found
groundhogs to in profusion in many parts of the state. They
determined that the groundhog, resembling the European hedgehog,
was a most intelligent and sensible animal and therefore decided
that if the sun did appear on February 2nd, so wise an animal as
the groundhog would see its shadow and hurry back into its
underground home for another six weeks of winter.

Here are some answers to Frequently Asked Questions about the holiday: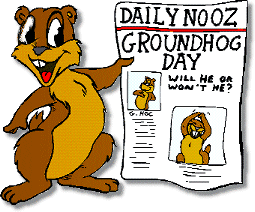 Yes! Punxsutawney Phil is the only true weather forecasting groundhog. The others are just impostors.
There has only been one Punxsutawney Phil. He has been making predictions for over 120 years!
Punxsutawney Phil gets his longevity from drinking "groundhog punch," a secret recipe. Phil takes one sip every summer at the Groundhog Picnic and it magically gives him seven more years of life.
On February 2, Phil comes out of his burrow on Gobbler's Knob - in front of thousands of followers from all over the world - to predict the weather for the rest of winter.
According to legend, if Punxsutawney Phil sees his shadow, there will be six more weeks of winter weather. If he does not see his shadow, there will be an early spring.
No! Phil's forecasts are not made in advance by the Inner Circle. After Phil emerges from his burrow on February 2, he speaks to the Groundhog Club president in "Groundhogese"(a language only understood by the current president of the Inner Circle). His proclamation is then translated for the world.
The celebration of Groundhog Day began with Pennsylvania's earliest settlers. They brought with them the legend of Candlemas Day, which states, "For as the sun shines on Candlemas Day, so far will the snow swirl in May..."
Punxsutawney held its first Groundhog Day in the 1800s. The first official trek to Gobbler's Knob was made on February 2, 1887.
So the story goes, Punxsutawney Phil was named after King Phillip. Prior to being called Phil, he was called Br'er Groundhog.
Courtesy of Groundhog .org - the Official Site of the Punxsutawney Groundhog Club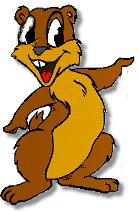 HAPPY GROUND HOG DAY from Heavens Gates and Punxsutawney Phil

Graphics from group shares
No copyright infringement intended
©Rose McKinley
"Zippety Doo Dah"
Used With Permission.
Lyrics and songs are property and copyright of their respective authors, artists and labels.
Lyrics and songs provided for educational purposes only.
Please support the artists by purchasing related recordings and merchandise.
Heavens Gates Divisions
Heavens Gates
Old Time Gospel
Remembering The 50s
Patsy Cline
Elvis Presley
A Lil Country/A Lil Grass
Christmas With Elvis
A 1950s Christmas
Solos Hideaway
The Big Band Era
Swinging 60s and 70s