When tomorrow starts without me,
And I'm not there to see,
If the sun should rise and find your eyes
All filled with tears for me;
I wish so much you wouldn't cry
The way you did today,
While thinking of the many things,
We didn't get to say.
I know how much you love me,
As much as I love you,
And each time that you think of me,
I know you'll miss me too;
But when tomorrow starts without me,
Please try to understand,
That an angel came and called my name,
And took me by the hand,
And said my place was ready,
In heaven far above,
And that I'd have to leave behind
All those I dearly love.
But as I turned to walk away,
A tear fell from my eye
For all my life, I'd always thought,
I didn't want to die.
I had so much to live for,
So much left yet to do,
It almost seemed impossible
That I was leaving you.
I thought of all the yesterdays,
The good ones and the bad,
I thought of all the love we shared,
And all the fun we had.
If I could relive yesterday,
Just even for a while,
I'd say good-bye and kiss you
And maybe see you smile.
But then I fully realized,
That this could never be,
For emptiness and memories,
Would take the place of me.
And when I thought of worldly things,
I might miss come tomorrow,
I thought of you, and when I did,
My heart was filled with sorrow.
But when I walked through Heavens Gates,
I felt so much at home.
When God looked down and smiled at me,
From His great golden throne,
He said, "This is eternity,
And all I've promised you.
Today your life on earth is past,
But here life starts anew.
I promise no tomorrow,
But today will always last,
And since each day's the same way
There's no longing for the past.
You have been so faithful,
So trusting and so true.
Though there were times you did some things
You knew you shouldn't do.
But you have been forgiven
And now at last you're free.
So won't you come and take my hand
And share my life with me?"
So when tomorrow starts without me,
Don't think we're far apart,
For every time you think of me,
I'm right here, in your heart.
Copyright © David M Romano
December 1993

In Memory of our Mother
Marie Helen Smith
14th May 1995
Happy Birthday, Mother in Heaven
Friday Feb. 23rd
From Carole, Butch, Walter and families
In Loving Memory
Thelma Mae Phelps
Left this earth for Heaven July 5, 1998
If tears could build a stairway,
and memories a lane,
I'd walk right up to heaven
and bring you home again.
What a sweet, wonderful mom you were.
Pattie, Billy, Glen and Tim
In Loving Memory
Jeffrey Taylor Arnold
07th September 1970
17th August 1997
Butterfly Kisses & Happy Trails
Till We Meet Again In Heaven
Love Mom
In Loving Memory
Kelley Ray Dock
18th August 1960
28th January 2007
Will miss you forever, my son!
In Loving Memory
To my Husband
Ron Fors Sr.
2nd February 1942
11th November 2006
I miss you so very much,
You were my whole life, my husband,
My best friend, my lover and soul mate...
You will always live in my heart...
I pray every day that we will be together again in Heaven...
In Loving Memory
Wendell D Eveland
02nd October 1932
01st March 2007
No words can ever express how badly I miss you.
I know that you are with Jesus Christ in Heaven and have a glorified home, and I praise God for that.
Life is so lonely without you and the tears just seem to keep coming.
I'll always love you forever with all my heart as you were not only my husband, but my very best friend.
In Loving Memory
Of A Special Brother
Wendell D. Eveland
02nd October 1932
01st March 2007
I just want you to know my brother was a one of a kind and he is missed so much by me and all of his family.
You were one of the special one's in my life and when I was so sick and you walked the floor with me so that I wouldn't choke you gave so much of your time for me.
The memories of you taking me "Mushroom" hunting and you told me to stay on the stump and then I would get to point them out for you.
The many times you would put me in the car and take me with you for ice cream, I remember the times you came home from the Army and I bolted out the door as my favorite brother was home how I miss all the memories of you telling me all of that.
All the times you were there for me when I needed you all I had to do was call and you were there for me when I needed it the most.
Now you and Bob are together and it must of meant to be that you would leave all of us not quite 2 months after Bob the love of my life was called home.
There will be one day that all of us will be together and with our Mother as well. What a joyous time that will be.
Until then you are truely missed..
I Love You Brother

In Loving Memory
Elmer C. Kilpatrick
01st May 1916
16th January 2007
Wife Dorothy
Daughters: June, Sandra, Dacia
Sons: David, Peter, Craig
19 Grandchildren, 24 Great-Grandchildren, 3 Great-Great-Grandchildren
You will always be missed, and always be loved
In Loving Memory
Russel H. Tarvin
12th June 2005 Age 66
"WHEN I AM GONE"
Celebrate my family & friends, do not be sad.
It was a good life, the one I had I'm home with Jesus, please don't mourn I'm showing my cars in Heavens,and get this, it won't pour The streets of gold are amazing These fields of flowers and a sun blazing Who cares about my body, throw it out back And dress pretty, not in gloomy black So enjoy life, that's what I want you to do. Just keep me in mind, and my love for you.
This was written by Russ Tarvin's daughter,
Tammy in Memory of her Father.
In Loving Memory
Debra Kay Reynolds Jirau
16th November 1960
16th June 2005
To my baby girl
Missed and Loved by Mother,
And Brothers Tim Jr, and Michael
We love you so much.
In Loving Memory
Marie Frances Yoke
19th January 2006
Dear Sweet Marie;
Your love lives on here through your life long example.
Oh, to hug you one more time.
In Loving Memory
Vonda King Harrison
22nd February 1963
09th February 2007
We love you and miss you,
Dad, Mom, Debi, Timmy, Belinda

In Loving Memory
Charles Edward Salyers
30th December 1950
22nd March 2007
Baby we miss you so much.
How do we go on with out you.
You were everything to us.
Me and Amy will never forget you.
I know you would not want us to cry for you.
but it is so hard so many things we wanted to say.
God tell Charles me and his dauhther love him and we will never forget him. We want say Goodbye, we just want to say tell we meet again.
Love always and for ever.
Bonnie And Amy...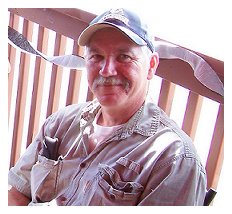 In Loving Memory
Thomas Cyril Bird
20th March 1955
06th January 2007
Tommy, My Brother, My Buddy,
I miss you every second of every day.
In Loving Memory
Corinna Ryser
18th June 1973
07th October 2005
As a butterfly you fly into heaven back in the arms of God and the angels.
God gave you to me for a short time of 32 years, now he has you back.
In Loving Memory
Alma Cross
03rd October 1962
07 April 2006
So sudden he take you back to heaven.
Now you and Corinna can be there together.
In Loving Memory
My Mother
Elsie Lee Brakebill Holliday Hall
09th February 1907
03rd January 1993
Gone but not forgotten.
In Loving Memory
Elsie Edwina Hall Nolen
29th April 1945
13th January 2005
My loving baby sister, I will never forget you and your loving and caring nature you had for your family and for all of the patients that youd.
I miss you more every day.
In Loving Memory
William Robert Holliday
13th September 190
15th February 2006
I miss you big brother and will never forget you.

In Loving Memory
BELOVED HUSBAND - FATHER - GRANDFATHER
James Albert Klanke
18th January 1940
21st December 2004
Jim was an extradionarily special man. Our lives have been changed forever since our Heavenly Father called him home so suddenly. A piece of us went with him for we loved him so. It hurts so when we think of all the dreams that were shattered by his death. What a joy it was to laugh with him, cry with him, to just be in his presence. He loved his God, his friends, his Children his Grandchildren and most of all his wife the mother of his Children he treasured her so. Not only was he a loving Husband and Father but a compassionate and honorable giving man. He was the glue that held us together.
Jim loved and cherished life. He loved the beauty of this world we live in and enjoyed traveling, camping, gardening, working in his shop building things. He was a carpenter for many years. He loved watching as the beauty of the trees an flowers would come alive in the spring or fall as the colors would change. He was honored to be able to serve as a Deacon in his church and was so thankful to be a part of such a family of believers.
Jim will always be remembered for his wit and great sense of humor. He loved playing pranks on his fellow man especially his family, friends and coworkers at the Illinois Department of Transportation whom he loved so. A Son In Law once said we would often get more of a kick out of his laughter and actions during a movie than we would the movie itself. His laughter was contagious he enjoyed life so. Though death has separated us from the physical being he will forever live on in the hearts of his family and those who were so blessed by knowing him. We thank God for allowing us to have him for as long as we did.
He is ONLY A Whisper Away Sleeping In The Arms of Jesus.
(Hon Pops PaPaw)
Forever In Our Hearts We Love You
Your Loving Wife Betty
Sons - Daughters -- Grandchildren

Page Seventeen Of In Loving Memory Memorials

In Loving Memory Children Memorials (1-13 years)

Back to ~In Loving Memory~ Index of Names

Would you like to add a loved one to this page?
Send to Heavens Gates, include Name, DOB, date entered Heaven
along with your dedication words and/or photo you wish included.
~Midi~
©Memories
Sequenced by ©Margi Harrell
Used With Her Permission
Heavens Gates Divisions
Heavens Gates
Old Time Gospel
Remembering The 50s
Patsy Cline
Elvis Presley
A Lil Country/A Lil Grass
Christmas With Elvis
A 1950s Christmas
Solos Hideaway
The Big Band Era
Swinging 60s and 70s