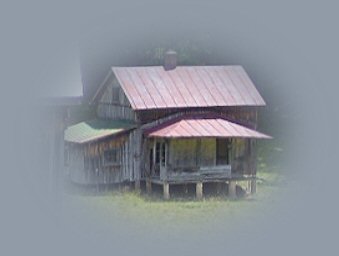 In the eye of my mind,
I see us as we romp and play,
Trying to see who would be,
The most daring of the day.
Remember when kids would
Double dog DARE?
Oh my, that was the ultimate,
And mercy we didn't spare!
The old car that sat out back,
Was a favorite place to play.
We all took turns 'driving',
That was the last thing of the day.
We chased Granddad's cows,
Around the pasture and feed lot.
I'm sure he suspected that,
But we never did get caught.
It scares me silly to think,
Of the dangerous thing's we did.
Like climbing up the windmill,
Oh my, what foolish kids!
The picture of this old house and car,
Brought many things to my mind,
And I took a trip down memory lane,
Just to see what I might find.
Melva
Friday August 11, 2006
Photo: My friend Harry's home along Rt 151 in Nelson County now vacant but not looking much different when Harry's family lived there. One of the many rural farm houses tucked away among the hollows of Nelson County, Virginia