Love Always, Patsy
Singing Girl From The Shenandoah Valley
Patsy Cline's 1st Fan Club President
Treva Steinbicker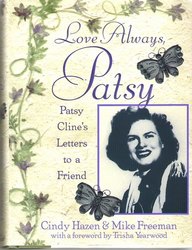 In 1955, Treva Miller Steinbicker, a starstruck girl from East Tennessee, approached an up-and-coming country western singer in the hopes of establishing her fan club. Patsy Cline cheerful accepted the honor.

Over the next four years, through an intimate exchange of letters, she would become Treva's close friend and confidante. Just as their lives were joined in friendship, they were linked in fate. Treva died tragically at the age of twenty-two. Three years later Patsy was killed in a plane crash.


Love Always Patsy is the collection of that remarkable, cherished correspondence -- poignant, colorful, humorous, and genuinely revealing in its honesty and warmth. We meet the aspiring young singer from Winchester, Virinia, excited at the prospects of her burgeoning career -- and devastated by its impact on a volatile and demanding marriage. We experience the joy of the birth of their daughter,
the strains of stardom, her loneliness on the road to sucess, and share in the rewards of a relationship with the one man who became the love of her life.

Above all, these imtimate letters reveal the dreams and aspirations, the private heartbreak and the piblic pressures of an ordinary woman who would become one of the most recognized names in the history of country music
[Quoted from the book cover of "Love Always, Patsy"
By Cindy Hazen and Mike Freeman]

Share this page with a friend!
Credits:
Patsy and Treva, and Patsy, Treva and Bruce (Treva's Husband) Photo's and Book scanned from John's Book "Love Always, Patsy"
Heavens Gates Divisions
Heavens Gates
Old Time Gospel
Remembering The 50s
Patsy Cline
Elvis Presley
A Lil Country/A Lil Grass
Christmas With Elvis
A 1950s Christmas
Solos Hideaway
The Big Band Era
Swinging 60s and 70s