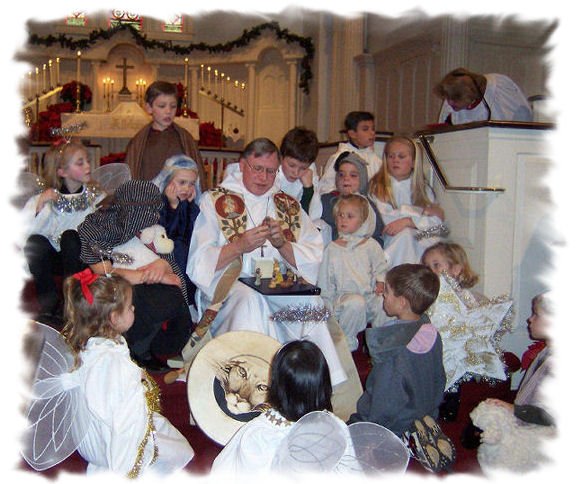 I have fought a good fight,
I have finished my course,
I have kept the faith:
Henceforth there is laid up for me a crown of righteousness
2 Timothy 4:7-8
I don't say Goodbye Leland... I say "See You"...
The Reverend Leland F Smith
Leland Floyd Smith, Rector of St. John's Episcopal Church Wytheville since 1997, died December 2, 2006. He was born in Alexandria, Virginia in 1946 to the late John Thomas and Willa Mae Smith.
Leland graduated from Thomas Edison High School, Fairfax County, Va. in 1964, went on to George Mason College of the University of Virginia where he was a member of the first graduating History Class. He went on to receive his Masters in Divinity from the Virginia Theological Seminary in Alexandria in 1976. He continued to broaden his education throughout the remainder of his life.
He served the following churches: Olivet in Franconia, Va., Holy Trinity Episcopal Church in Fayetteville N.C., Saint Mary's Episcopal Church in Kinston, N.C., and the Church of the Holy Innocents in Henderson, N.C.
Leland served the United States army in Vietnam and at the Pentagon from 1968-1971, working in orphanages in his spare time.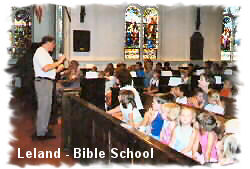 At the time of his death, Leland was serving on numerous committees, including United Way, Episcopal Appalachian Ministries, St. John's Preschool, and various committees in the Episcopal Diocese of Southwestern Virginia, including the Standing committee, Dean, Executive Board, Education Consortium, a member of the Trustees of the Diocese and Grace House.


The Right Reverend Neff Powell, Bishop of SWVA said: "I am heartbroken. Leland was one of the finest priests I had the privilege to serve alongside." In addition to various formal committees, Leland has always been an advocate for children and their needs.
Leland served St. John's as its rector until his death in December 2006. During his tenure, the church saw continued emphasis on music, youth, and community outreach. Leland took a personal interest in St. John's Weekday School and introduced Godly Play. His involvement contributed to the growth of the program and had a significant spiritual and educational impact on hundreds of young lives.
He is survived by his wife, Janet Pitts Smith; his son, Michael Christopher Smith; and siblings, Linda Cancilla and John T. Smith Jr; and scores of special friends and relations.
Leland was a wonderful, compassionate, loving, caring person whose inner being shined with peace and love to everyone he met.
The Leland Smith Memorial Gazebo
By WAYNE QUESENBERRY/Staff
The late Leland Smith's love for children was legendary. It manifested itself at St. John's Episcopal Church, in the church's daycare program and throughout the Wytheville community.
When Leland Smith, the church's rector for almost 10 years, died suddenly while walking in the Christmas parade last December his congregation was devastated. The children, too, lost their friend and advocate.
"My grandson was expecting a baby brother at the time," recalled church member Pat Phillippi. "He said Leland won't get to see Luke. It has been hard. The children had a really hard time with it." Following Smith's death, memorial contributions poured into the church's Good Samaritan Fund. They were to continue Smith's work with children.
According to Phillippi, Smith's widow, Jan, and son Michael suggested buying a gazebo for the church. Their idea was supported by the congregation.
Early this spring, a committee consulted with the owners of the Mennonite woodcrafter business in Wytheville. It placed an order for the gazebo to be built in Tennessee.
At the end of June, the white octagonal-shaped gazebo with a 14-foot diameter and gray slate roof arrived at the church on Main Street. It was unloaded from a truck and placed on a site beside the church building.

On July 3, the Leland Smith Memorial Gazebo was dedicated. Presiding over the ceremony was the Right Rev. Neff Powell of Roanoke, Bishop of the Episcopal Diocese of Southwest Virginia.
Powell told the first Bible story from the gazebo to the delight of the children.
Also attending the dedication were Smith's family and church congregation. The Rev. H. James Raines Jr., interim rector of St. John's Episcopal Church, participated too.
The gazebo will continue to be used as a site for storytelling. It also will be the scene of activities for the church's daycare children and church children.
View the proclamation from the Eighty Eight Council of the Diocese of Southwestern Virginia
View Leland's Bio from our family tree of the Smith Family

Song
"Just As I Am"
©Billy Graham Crusade Choir