When tomorrow starts without me,
And I'm not there to see,
If the sun should rise and find your eyes
All filled with tears for me;
I wish so much you wouldn't cry
The way you did today,
While thinking of the many things,
We didn't get to say.
I know how much you love me,
As much as I love you,
And each time that you think of me,
I know you'll miss me too;
But when tomorrow starts without me,
Please try to understand,
That an angel came and called my name,
And took me by the hand,
And said my place was ready,
In heaven far above,
And that I'd have to leave behind
All those I dearly love.
But as I turned to walk away,
A tear fell from my eye
For all my life, I'd always thought,
I didn't want to die.
I had so much to live for,
So much left yet to do,
It almost seemed impossible
That I was leaving you.
I thought of all the yesterdays,
The good ones and the bad,
I thought of all the love we shared,
And all the fun we had.
If I could relive yesterday,
Just even for a while,
I'd say good-bye and kiss you
And maybe see you smile.
But then I fully realized,
That this could never be,
For emptiness and memories,
Would take the place of me.
And when I thought of worldly things,
I might miss come tomorrow,
I thought of you, and when I did,
My heart was filled with sorrow.
But when I walked through Heavens Gates,
I felt so much at home.
When God looked down and smiled at me,
From His great golden throne,
He said, "This is eternity,
And all I've promised you.
Today your life on earth is past,
But here life starts anew.
I promise no tomorrow,
But today will always last,
And since each day's the same way
There's no longing for the past.
You have been so faithful,
So trusting and so true.
Though there were times you did some things
You knew you shouldn't do.
But you have been forgiven
And now at last you're free.
So won't you come and take my hand
And share my life with me?"
So when tomorrow starts without me,
Don't think we're far apart,
For every time you think of me,
I'm right here, in your heart.
Copyright (c) David M Romano
December 1993


The Lombardo family
Back row: Elmer, Phyllis, Sam, Jackie, Joe
Middle row: Carmelo, Momma, Papa, Mary K (biddie)
Front row: Big Frank, Lydia, Little Frank

Frank and Lilly Lombardo wedding 1919
In Loving Memory
Frank L. Lombardo
Husband
18th November 1894
05th November 1976
In Loving Memory
Lilly Lombardo
Wife
13th March 1899
27th January 1983
Children of Frank and Lilly:
Phyllis Lombardo Holstien - Daughter
04th January 1921 - 05th July 1985

Carmelo L. Lombardo - Son
10th July 1922 - 12th December 1971

Joseph L. Lombardo - Son
20th June 1926 - 11th October 1978

Mary K. Lombardo - Daughter
25th November 1935 - 06th March 2006
Mama and Papa, you were the rock that kept us all together
Then the seventys, our family started to get smaller,
But Mama was still there. Then the eighties took Mama and
Phyllis and then there were two Jackie and Biddie the
oldest in law and the only living daughter. They kept us
together like everybody was still there my childhood home
or grandmas house now we are 6 childern and the oldest and
youngest girls keep things together not seeing and going to
grandmas but email and letters things given to our parents
from others in family keep all of them together and alive
Thank you Mama and Papa for giving us all life.
Your loving grandchildern
Lydia, Frank., Frank R., Sam, Jake, and Jozelle and all not
listed whose lives you touch and had something to do with
In Loving Memory
Carmelo L. Lombardo
Father
10th July 1922
12th December 1971
In Loving Memory
Lily Lombardo Bodine
Daughter
13th August 1956
24th September 1996
In Loving Memory
Elmer Holstien, Sr
Husband
23rd August 1911
13th December 1972
In Loving Memory
Phyllis L. Holstien
Wife
04th January 1921
05th July 1985
I thank God for everyday, He allowed us to share.
There's not a day that goes by I don't wish you were still
here with us. At nite when I thank God for the day I always
ask Him to tell you hello, and give you my love. I long for
the day we can sit, talk, & laugh like we used to do. Until
that day arrives, know that you are loved and missed more
than can be stated in words.
I will always love you,
Your daughter,
Lydia
In Loving Memory
Elmer Holstien Jr.
October 13 1937
March 25 2013
You lived so far away from home...but I knew
you were always there. I love you and will miss
you more than you know!
In Loving Memory
Frank B. Holstien
Son
31st July 1947
13th June 2002
To My Big Brother
I remember how only you could tell a funny story
and make us all laugh till it hurt. Your stories about the
basketballs...the snake...and the restaurant still makes us
laugh often. Our two families are still connected
by phone and email, and I can just imagine how surprised
you were when Sirena showed up. But I know ya'll are
having a ball arguing like only you and she could do!!!
I look forward to all the laughs we will have when we
meet again. Until then know how much you are missed
and how much I love you.
Your sister,
Lyd
I never had a better or more loyal friend than Frank.
He was my friend long before he was my brother-in-law.
I know we will meet again but I will still miss him until the
day I die. His marriage to Neva brought me
a whole new family. They live so far away, and I hate it,
because I really miss them. The best thing my friendship
with Frank brought me was my wife. The love of my life,
next to my truck, (as Frank and his mother would say)!!
Frank's mother won my heart the first time I met her
in Houston, I miss her very much. She was one of a kind.
Your Friend Always,
Bobby Smith
In Loving Memory
Mary K. Lombardo
Daughter
25th November 1935
06th March 2006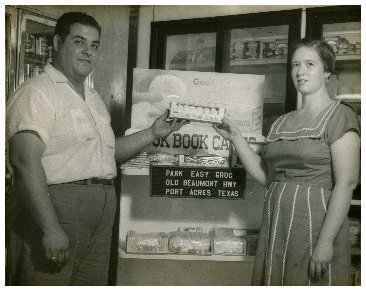 Joseph and Jackie 1955
In Loving Memory
JosephLombardo
Husband
20th June 1926
11th October 1978
In Loving Memory
Jackie Lombardo
Wife
14th November 1929
27th August 1998
We love and miss you so much our hearts ache with sadness, & our silent tears roll down our faces. No one will ever know what it meant to send you to make us a place, for now we know God only takes the best,
Your loving sons and daughter
I miss you both
Your loving daughter,
Jozelle
In Loving Memory
Sam L. Lombardo
24th March 1901
28th August 1991
In Loving Memory
Frank B. Holstien
Father
July 31, 1947
June 13, 2002
He was the dad he didn't have to be. He was a wonderful grandfather, husband, and brother. His family was his life, his grandkids were the joy in his life.
In Loving Memory
Sirena Marie Pickett
Daughter
13th July 1970
14th February 2007
I lost my best freind that day she was a wonderful sister and mother and daughter. Her husband lost his soul mate that day please pray for him that he can keep going without her. Her neices and nephews lost their friend and the person they could tell anything to and she would help them anyway she could.

Page 20 of In Loving Memory Memorials
In Loving Memory Children Memorials (1-13 years)

Back to ~In Loving Memory~ Index of Names

Would you like to add a loved one to this page?
Send to Heavens Gates, include Name, DOB, date entered Heaven
along with your dedication words and/or photo you wish included.
~Midi~
Memories
Sequenced by (C)Margi Harrell
Used With Her Permission
Lyrics and songs are property and copyright of their respective authors, artists and labels.
Lyrics and songs provided for educational purposes only.
Please support the artists by purchasing related recordings and merchandise.
Heavens Gates Divisions
Heavens Gates
Old Time Gospel
Remembering The 50s
Patsy Cline
Elvis Presley
A Lil Country/A Lil Grass
Christmas With Elvis
A 1950s Christmas
Solos Hideaway
The Big Band Era
Swinging 60s and 70s